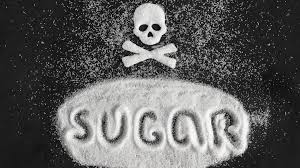 Sync Nutrition – The Dirt on Sugar, Part 1
Are you addicted to sugar?  This two part series will set you straight on the dirty secrets of sugar.
Part 1 – What is considered sugar? We will look at the definition of "sugar" and where hidden sugars are found in our food. We will take a hard look at the effect that sugar has on our bodies and our health.  We will also discuss some ways to begin to reduce our sugar intake.  Coach Kira will show us how to make her favorite, sugar free cookie recipe called "Yummy Kids Cookies" 
Part 2 -We will take a look at the neurobiology of sugar and how it causes it's own Substance Use Disorder, much like alcohol and other substances. How does it affect the brain and why is it so hard to stop eating it?  We will continue the discussion of how to reduce or maybe even eliminate refined sugars from our diets.  Coach Kira will give us some ideas about how to enjoy some sweet foods without the negative health effects.   Join us on June 15 to reclaim your health!
This event starts promptly at 7:00pm-8:00pm.  Please sign into zoom a 5 minutes early.
Kira Kraiman of A Well Fed Life is a National Board Certified Health and Wellness Coach and Health Educator! She has over 20 years of experience in health education and coaching and is dedicated to helping people make the behavioral change necessary to live A Well Fed Life. Her passion is to use coaching and educational tools to help everyone improve their health and wellness in the most holistic ways possible, addressing issues of mind, body and spirit!  Kira helps people to reach their health goals slowly but surely, so it becomes and remains part of their new lifestyle.
The following is the meeting ID, password and link. Please register so we can send reminders and information as needed.
Meeting ID: 890 6475 5040
Passcode: 021106
One tap mobile
+13017158592,,89064755040# US (Washington DC)
+13126266799,,89064755040# US (Chicago)