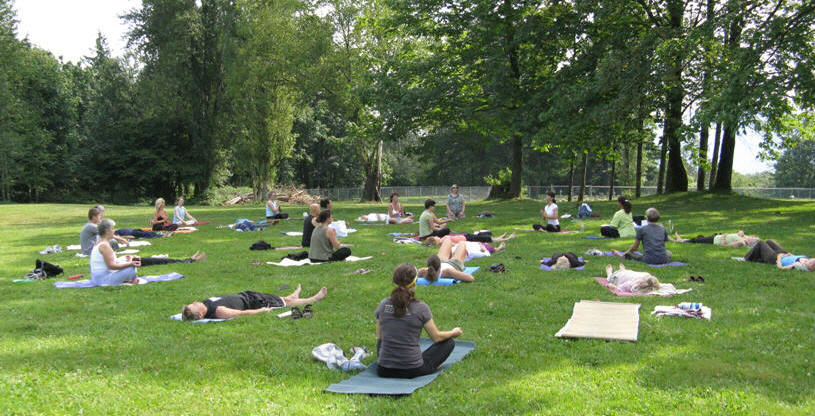 Sync with Y12SR-Lehigh Valley Yoga in the Park
Yoga of 12-Step Recovery classes provide an adjunct for healing the body, mind, and spirit. Join us the 3rd Thursday of each month for Y12SR at Riegelsville Park. This class will start with a gentle Yoga practice which will lead into a 12-Step discussion meeting. Open to anyone dealing with their own or a loved one's addictive behaviors, Y12SR classes combine the somatic approach of yoga and the cognitive approach of 12-step programs. This class is donation based. All donations are greatly appreciated.
We do have mats available and cleaning supplies for hygiene. Please bring water for hydration and healthy snack if you desire.
Tips and guidelines to ensure the safety and well being of every participant:
As per the recommendations of state and local officials it is advised that everyone adheres to social distancing guidelines. This includes setting up mats/blankets in a manner to provide ample space between ourselves and our neighbors. (Most yoga mats are almost 6 feet in length. Assistance will be given to create appropriate spacing).
It is recommended that all persons wear a mask to and from your mat, it is not necessary to wear your mask once you are set up for yoga.
We will be outside. Please consider sunscreen/ hats, bug spray, and cooling/warming temperatures(layers of clothing) to allow for the utmost comfort for your practice.
It is also encouraged that conversations be reserved for before class begins and after ending and away from class site. For many, yoga is deeply spiritual and can invoke/ allow for the release of emotions. In this respect, please honor your body. It is perfectly acceptable to simply find a comfortable position for your body to rest, listen, and absorb the healing nature of yoga in the outdoors.
Weather- In the event of inclement weather classes will be cancelled. Please check the Facebook event page or email syncrecovery@gmail.com