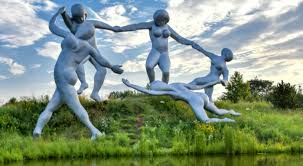 Grounds for Sculpture-An Outside Art Walk on 42 Acres of Gardens
We have reached capacity for this event. Please sign up below to be placed on the waiting list. Thank you.
Across the 42 acres, you can find a meadow rich with wildflowers, butterflies, and a pond teeming with natural life. Or wander through manicured fairways and paths, past elegant and architectural reflecting pools, to admire the living library of native and exotic trees and flowers.  More than 270 sculptures by renowned and emerging contemporary artists are thoughtfully positioned on meticulous landscaping complemented by thousands of exotic trees and flowers.  GFS features works by distinguished artists including Clement Meadmore, Anthony Caro, Beverly Pepper, Kiki Smith, George Segal, Magdalena Abakanowicz, and Isaac Witkin. Their artwork, along with the enchanting works of our visionary founder Seward Johnson, comprise our amazing and eclectic collection.  Your experience here is neither a beginning nor an end, but a continuous journey which, like the sculpture park, changes with the seasons.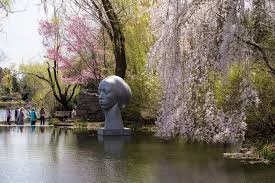 There are only 10 spot available for this activity so be sure you will attend once registering.  Plan on $18.00 per ticket once you register.  The facilitator, Stacey Metzler, will collect the fee upon your arrival that day.  You are permitted to bring water on site but no outside food is allowed.  You can bring a picnic lunch and enjoy it at you car (unfortunately no picnic area) or eat at their on site restaurant.  If you plan to buy your lunch $20 should be enough.
We will meet promptly at 10:30am at Grounds For Sculpture, 80 Sculptors Way, Hamilton, NJ 08619 . You will enter the grounds at 11:00 am and the tickets are timed so it is imperative to be prompt.  You may not be permitted to enter the grounds if you are late due to policies created at this time due to covid.
Please come prepared: Dress appropriately in layers, a hat or sunblock if you are sensitive to the sun.. We will be doing a lot of walking on paved paths please wear comfortable shoes. The program is outdoors, we will wear masks and socially distance. Dogs not permitted.
Please use the form below to register for this event. Please call or text Lead Adventurer, Per Hagen, at 215.380.3341 if you need more information.