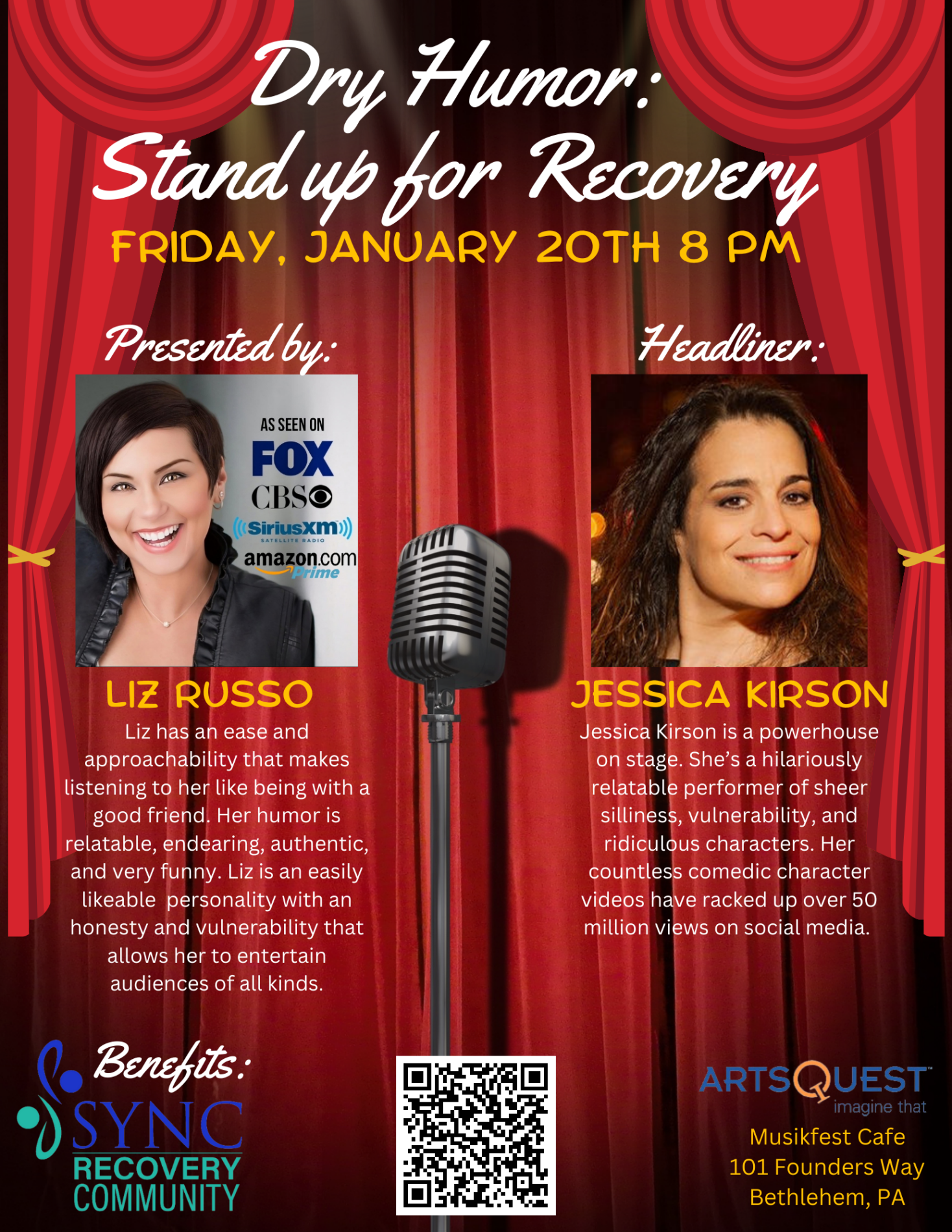 Liz Russo's Dry Humor: Stand up for Recovery
Tickets are available on this link! Click HERE.
JESSICA KIRSON WILL HEADLINE THE ANNUAL COMIC EVENT
BETHLEHEM, Pa.—  ArtsQuest is proud to announce comedian Jessica Kirson will headline the annual event presented by Liz Russo, Dry Humor: Standup for Recovery in the Musikfest Café, presented by Yuengling, on Friday, Jan. 20, 2023. Tickets are now on sale for ArtsQuest Members and at 10 a.m. and will go on sale Friday, Sept. 23 for the general public on steelstacks.org. For more exclusive ticket opportunities, become an ArtsQuest Circle donor today.
The annual event presented and hosted by Lehigh Valley residing comedian Liz Russo, returns to celebrate Russo's 12th year of sobriety. In addition to hosting the evening the three-time winner of Best Comic of the Lehigh Valley by Lehigh Valley Style, will share her own inspiring and self-deprecating stories along with her tails of triumph. Russo has performed in comedy clubs and festivals across the country opening for Colin Quinn, Gilbert Gottfried, Jim Norton and Lisa Lampanelli.
This year's headliner Jessica Kirson is one of the most recognizable female standup comics to date. The hilariously relatable performer will charm the audience with her vulnerability, silliness and ridiculous characters. Kirson produced FX's documentary Hysterical and has been featured on numerous television shows including HBO's "Crashing", "Kevin Can Wait" and the full late night TV circuit from Jay Leno to Jimmy Fallon. Her own Comedy Central special Talking To Myself has received rave reviews. Her latest work, prank call album recorded during the height of the pandemic, The Call Girls, was released in 2021. Kirson can be found on her podcasts Disgusting Hawk and Relatively Sane where she has interviewed comic icons Bill Burr, Jim Gaffigan and Rosie O'Donnell. She was awarded "Best Female Comic" by the MAC association in New York and is a regular contributor to "The Howard Stern Show".
A portion of the proceeds will be donated to Sync Recovery Community.