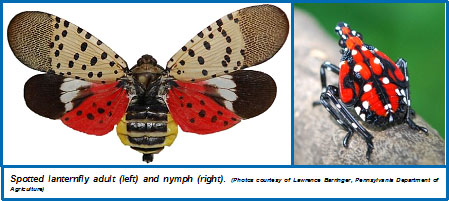 Spotted Lanternfly Eradication
Eastern PA is ground zero for SLF (Spotted Lanternfly). SLF causes serious damage: oozing sap, wilting & curling leaves and die back on trees, vines, crops and many other plants. Uncontrolled, this insect could cost Pennsylvania $324 million annually and more than 2,800 jobs.  Penn State University will work with us to eradicate this menace.
Kill it! Squash it, smash it…just get rid of it. In the fall, these bugs will lay egg masses with 30-50 eggs each. These are called bad bugs for a reason, don't let them take over!  Our job is to eradicate them before they hatch: in the egg stage.
We will meet at 10:45AM and our workshop will begin promptly at 11am.   There will be a Recovery Meeting at this event.  Please bring water and snacks to fuel your body, a face mask for the protection of those who feel vulnerable to virus and chance we are not able to remain "socially distanced."   Leave No Trace: Always practice
Leave No Trace
ethics on your adventures and follow local regulations.   Please register for this even using the form below.
Please call or text Lead Adventurer, Per Hagen, at 215.380.3341 if you need more information.