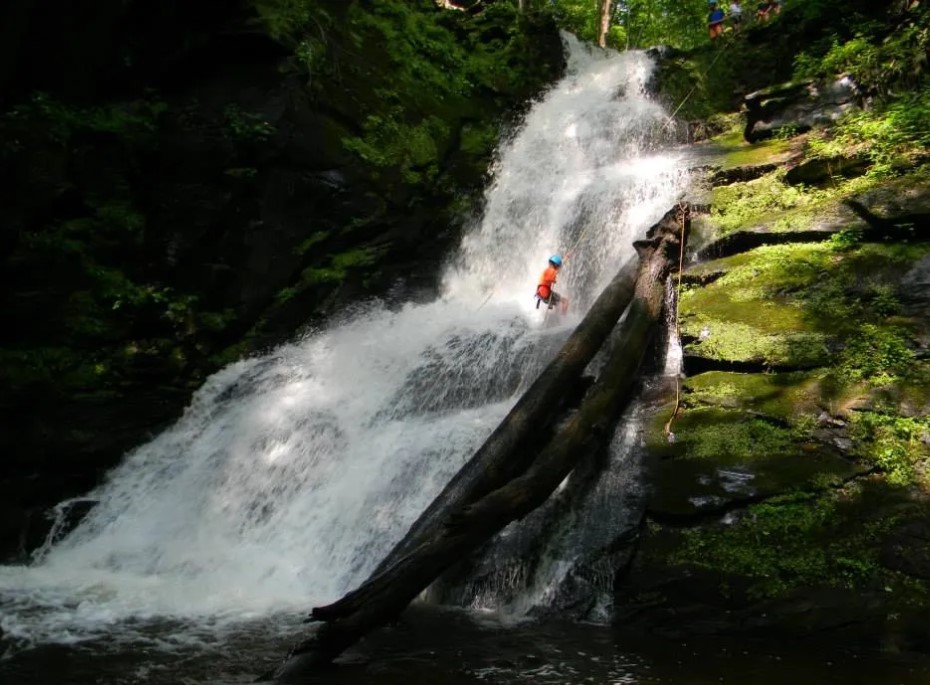 Waterfall Rappelling in the Catskills
Rappelling down waterfalls from 60 to 130 feet is an AWESOME way to spend a day with friends and family! Join Northeast Mountain Guiding's NCGA certified guides on this stellar adventure, worth making it on your bucket list for sure! During this trip (NEMG most popular activity), you'll rappel down waterfalls of Elka Park in beautiful upstate New York.
Weight minimum is 80 pounds. There is no weight limit on this activity but waist size maximum is 42 inches. Minimum age is 12 years old and minor's parent or legal guardian MUST be present during this activity. NO spectators or pets of any kind are allowed. If you bring a pet you will not be allowed to participate.
What to wear: NO SANDALS OR OPEN-TOED SHOES ALLOWED! Dress for the weather but keep in mind that you WILL be getting wet while rappelling. A wet suit is recommended but not required. Water shoes with hard bottoms or old sneakers will be fine for the rappelling portion but must have adequate ankle support for the hiking portion of the trip. Shoes MUST be closed-toed style. The trail to the falls is short and steep so be sure to wear appropriate footwear for hiking.
What to bring: No drawstring style backpacks are allowed. Trail snacks, 2-3 liters of water, sunscreen, bug spray, personal first-aid items (EpiPen, inhaler, meds, etc.), bathing suit, change of clothes, towel. Water shoes or old sneakers to rappel in are helpful. Pack all of these items in a small backpack so you are "hands free" for the hike into the waterfall. A drybag is a great option as to not get your belongings wet during the trip. There is no changing room/area as this trip is in the middle of the woods. You'll have to change in your vehicle or in a secluded area.
NOT ALLOWED: Drugs, alcohol, pets, denim/jeans, bikinis or similar low profile bathing suits, open-toed shoes or sandals, spectators, firearms, weapons, fireworks, drones.
---