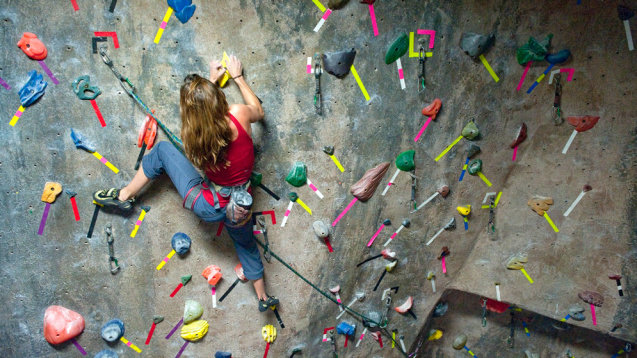 Sync Recovery Rocks at Doylestown Rock Gym
Whether you are an experienced rock climber or not, please join us at Doylestown Rock Gym. Dress comfortably and wear sneakers. Our hosts will provide the rest.
Climbing is a full body workout, meaning your head as well.
It doesn't just keep your muscles fit, but it also stimulates and improves your cognitive ability, problem solving, confidence etc. Let's look at the mental benefits of rock climbing.
Goal setting. To climb rocks you must set goals and move towards them. We've already talked about why that's important in life.
Being aware of yourself. It requires you to be more aware of the space around you, and how you're moving your body through it.
Relieve Stress. When you're climbing, nothing else matters. It's much the same effect that skydiving has on you, because you're so focused on the moment and what you're doing right now, you don't have time to worry about things like work or bills. It's an antistress device!
Confidence. If you can climb up a mountain, you can do anything. Things that seemed like a big deal before, (public speaking, confrontation, job interviews) now don't seem hardly as daunting.
Perseverance. When you're climbing you always want to get to the top, and you'll keep trying to get there. That's what makes it such a good sport because it teaches you life skills as well as giving you a workout.
This is a great article found on http://www.transcendyourlimits.com/awesome-benefits-rock-climbing/